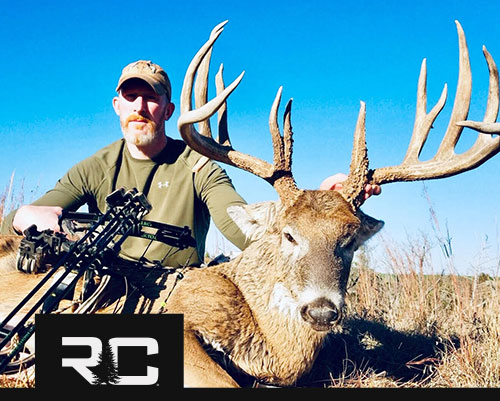 Mark Morris
Agent | Phone: 785-324-1495
Mark Morris was born and raised in Russell County, Kansas. After graduating from Fort Hays State University and Wichita State University, he returned to the area he grew up, where he currently resides with his wife and three children.
Pursuing trophy whitetails has become a year round effort for Mark. Whether it's supplemental feeding and food plots in the spring, trail cam inventory in the summer or early season scouting in September, he is always planning when and how to harvest his next whitetail. Through many years hunting his family farms, Mark has developed the ability to evaluate and maximize the potential of each piece of property to grow and hold whitetails, turkey or upland birds.
He's excited to be a part of the Red Cedarl Land Co. team and looks forward to assisting you with buying or selling your next property.
MARK'S PROPERTIES
73+/- Acres of Excellent Hunting in Mitchell County, Ks Mitchell KS Mitchell Beloit Kansas farmshunting landranchesrecreational landundeveloped land

200000

73

1618568694

1617385105

0

73+/- acres of excellent hunting in mitchell county, ks

farms huntingland ranches recreationalland undevelopedland

kansas

73+/- Acres of Excellent Hunting in Mitchell County, Ks

Mitchell County, Kansas

73+/- Acres For Sale in Mitchell County, Kansas This property has a superb blend of income generating potential as well as excellent upland hunting. This farm has been successfully managed by the current owners to maximize the habitat and provide a sanctuary for pheasants. The 17 acres of CRP contains tremendous cover and is the best seclusion in the immediate area. This property also benefits from the controlled shooting area across the road to the north east. Many of the birds released there migrate to this farm eventually. The owners state that is not uncommon to flush 30 to

80+/- Acres with CRP and Pond in Russell County, KS Russell KS Russell Dorrance Kansas farmshunting landrecreational land

110000

80

1617582727

1616025141

0

80+/- acres with crp and pond in russell county, ks

farms huntingland recreationalland

kansas

80+/- Acres with CRP and Pond in Russell County, KS

Russell County, Kansas

This 80 +/- acres in Russell County, KS has something to offer just about any sportsman. The established CRP and surrounding grass holds a good number of pheasant and quail. There is also better than expected deer sign on this tract. Late in the year there are usually a handful of ducks on the pond in the south east corner. The pond is fed by a wide draw that runs west the entire length of the southern edge of the property. This draw is full of reeds, growing from the wet bottoms of the draw. These provide excellent cover
CONTACT MARK
Fill out the form below and I will contact you soon