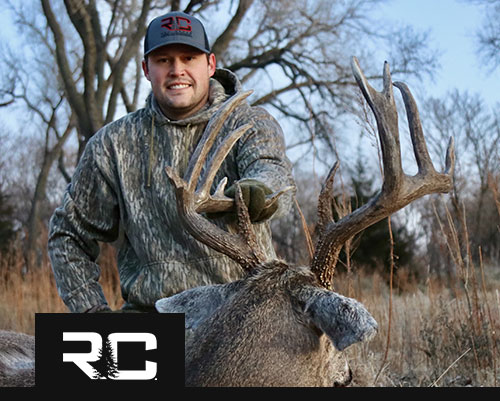 Ryan Koelsch
Broker/Owner | Phone: 620-546-3746
Ryan Koelsch, of St. John, KS developed a passion for the great outdoors early in life, fishing and bow hunting with his family as far back as he can remember. Growing up in the target rich environment of Stafford County, it was easy to develop an obsession to live the outdoor lifestyle. Ryan, a Kansas State University Graduate with a BA Degree in Agronomy, uses his education and passion for the outdoors to assist landowners in selling their land, and buyers to acquire the property of their dreams.
With a drive to succeed and over 10 years of experience in the real estate arena, Ryan opened his own real estate agency, Red Cedar Land Co., in early 2020. Licensed in both Kansas and Missouri, Red Cedar Land Co. offers a unique blend of expertise in recreational land, farm and ranch, residential and auctions.
Aside from the real estate company, Ryan also owns a seed company and land management business to better assist customers
Testimonial
Since childhood I was filled with a passion for agriculture and the outdoors. It goes without saying, that owning a piece of hunting agricultural paradise has been a lifelong dream for myself, and in recent years my family. Ours search over many years and several states could have been made shorter by enlisting the assistance of Mr. Ryan Koelsch.
From the first phone call to signing on the dotted line, Ryan was nothing less than spectacular as an advisor of land, educator of hunting in the area, and in the negotiation of closings. At every point along the way he was attentive in his approach to finding us a great piece of property. He took the extra time and effort to help us feel confident in our purchase and knowledgeable about the process. Ryan has a knack for the outdoors and an ability to use that knowledge to find top-notch properties for his clients. Not to mention, he knows big deer. Just ask him to show you some pictures.
I have been in a service profession for many years and feel that Mr. Koelsch exemplifies what his profession is about. From taking the extra time with phone calls to advising blind locations and setup; Ryan puts everything he has into taking care of his clients. My family could not have been more fortunate to have worked with such a great agent and person. Thanks to Ryan; our family will have a place to share a hunting legacy for many, many years.
– The Dowlearn Family
CONTACT RYAN
Fill out the form below and I will contact you soon